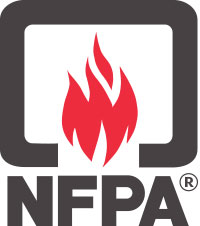 NFPA Codes (National)
---
ANNUAL INSPECTION CODE:
NFPA 211.14.1 Annual Inspection
Chimneys, Fireplaces and vents shall be inspected at least once a year in accordance with the requirements of 15.1
CLEANING CODE:
NFPA 211.14.2.1
Cleaning, maintenance & repairs shall be done if necessary.
LINING CODE:
NFPA 211.14.9
If the flue liner in a chimney has softened, cracked or otherwise deteriorated so that it no longer has the continued ability to contain the products of combustion (I.E. heat, moisture, creosote & flue gases), the liner shall be removed & replaced, repaired, or relined with a listed liner system.
SMOKE TEST CODE:
NFPA 7.1.7 Smoke Test
Masonry chimneys shall be proved tight by a smoke test after construction and before being put into use.
---