FuranFlex® is a revolutionary solution for heat and corrosion-resistant lining of gas and oil heated chimneys. Its flexibility and ease of installation simply cannot be beat. For the ultimate in chimney lining, choose FuranFlex for your chimney lining needs.
---
No one knows America's chimneys like Lifetime Chimney Supply. It's our company mission to manufacture and supply the best commercial and industrial venting systems that are both safe and efficient for all your venting needs.
Call 877.234.PIPE (7473) or Email Us
For more information on our commercial grade products and services, call or email Lifetime Chimney Supply. We are here to answer all of your questions and provide you with the highest level of support for all of your commercial jobs and needs.
We also offer technical assistance for contractors and engineering firms which include design, draft and structural calculations that can solve any job-site issues.

Tested and listed to UL 1777 standard for venting category I gas and oil fired appliances
The 1st UL listed thermo setting resin composite chimney solution for dual fuel in the USA
100% Success rate in hundreds of New York's largest chimney applications
Free job-site delivery
Same-day install date with support team on stand-by
Specifically made for chimney and venting industries
Utilizes every square inch of existing masonry chimney
No down sizing flue diameter when relining
The only solution for chimneys with offsets, bends and twists that is forged in a pressurized environment
Bypass chimney offsets easily eliminating costly demolition when using other outdated lining solutions
Stabilizes existing masonry structure from the inside out
Proven for the last 25 years in Europe & Asia's most historical landmarks
Higher Corrosion Resistance
Higher Temperature Rating
Lighter in Weight for easier installation. 25 year warranty on FuranFlex FF1
---
---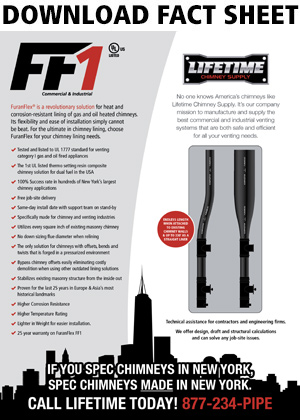 ---